Rich Mironov returned to the Haas School's Product Management Executive Education series, "Product Management: Translating Market Opportunities into Profitability," for a lecture on product management titled "Customer Input Approaches and the Product Planning Horizon".  This session included an in-person version of the Innovation Game "Buy A Feature." In a program primarily taught by Haas' distinguished faculty,  Rich was (at the time) the only product management practitioner on the program's teaching staff.
Where: Haas School of Business, University of California, Berkeley, CA
When: Tuesday, November 4, 2008 (the full program runs Nov 3 through 7)
The Berkeley Center for Executive Development draws on the rich resources,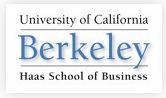 talent and perspectives of top-level business educators and researchers from UC Berkeley's Haas School of Business and elsewhere to provide top-level executive education courses and custom programs to executives and companies around the world. This includes specific programs in Leadership, Finance, Marketing, and General Management – including Product Management. The 2008 Product Management program draws on The Haas School's own professors as well as expert practitioners in the field. Rich Mironov is honored to be part of this distinguished group.