Managing Stakeholders and Priorities: A One Day Workshop for Product Managers
Hosted by Software Skillnet/Technology Ireland
Where: Dublin IE
When: 11 April 2018, 9am – 5pm
(A past event, included for those interested in similar workshops and content)
This interactive workshop will help product managers improve their understanding and skills for working with stakeholders/ executives, setting priorities, and creating thumbnail business justifications for key roadmap items.   We will look at specific tools/techniques that product managers can use to drive decisions/strategies.
Attendees will start the day identifying their own stakeholder management challenges, and the group will vote up issues to include in the day's agenda.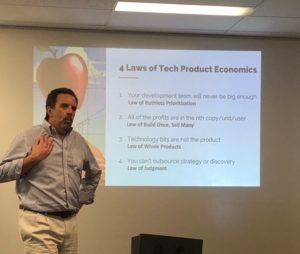 Topics:
What good product management looks like
Prioritization and product portfolio models
Validating customer problems and building the right things (rather than accepting customer-proposed solutions as correct)
Thumbnail business justifications for key projects
Executive listening/learning styles
Building trust with Engineering and other key organizations
Intended outcomes
Understanding of different stakeholder groups and what they want from product prioritization/planning processes
Portfolio planning concepts: balancing outward-facing feature priorities with inward-facing technical investments and debt reduction
Strategies for attaching business value to product features/capabilities, and comparing those to requests for single-customer commitments
Basics of customer/market validation of product ideas ahead of the development process
Identifying and planning for internal escalation paths of (enterprise) sales.  How do large customer deals evolve internally, and how do we think through trade-offs with product roadmaps?
Attendees should currently be product managers, ideally with 2+ years in the role.  The day will be highly interactive, so come prepared to share insights and argue about approaches.
All attendees will receive a copy of Rich Mironov's "The Art of Product Management."
---
Software Skillnet is the National Training Network for the Software Technology sector in Ireland, supporting firms in the tech sector with grant-aided training and education programmes.  The mission of the Software Skillnet is to enable companies with software technology functions, to remain highly competitive, by facilitating active talent development and continuous up-skilling for staff.  The network was established as a strategic initiative of Technology Ireland in 2006.