Mind The Product hosted a one-day workshop for me in London, a day ahead of Product Camp London.
What: Product Leadership with Rich Mironov
Where: etc.venues, 51-53 Hatton Garden London EC1N 8HN
When: Friday, April 15
Most product management writing and sessions are about managing individual products/services or feature-level lean/design thinking.  This workshop was for those managing teams of product managers, designers and engineers (or who hope to be soon). We tailored an agenda plus group exercises based on the attendees' specific issues and concerns, including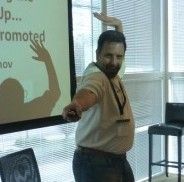 Working with founders and business owners to tend to "help too much" or destabilize plans
Hiring, training and mentoring new product managers
Building trust in the product team at the executive level
We had a very active discussion among attendees, who were from a range of organizations (software companies, media companies, government digital groups) and shared strategies.  Many folks were surprised that everyone else in the room had similar issues.
Even if we assume a team of individually great product managers (and developers and designers and marketing/sales/GoToMarket folks), organizations are complex.  Getting things done in organizations is hard.  Theory only takes us part of the way there.