During my recent move, I was channeling Marie Kondo and cleaning out old office stuff when I uncovered some mementos from the 90's and 00's. They reminded me how companies often celebrate hierarchy but rarely longevity – the willingness and commitment to stay with a company long enough to have an impact.
Back story: I joined a 20-person startup in 1998 as the first product person. The company was called iPass, led by founder Chris Moore. (He's still my exemplar for a strategic, thoughtful but hard-charging CEO.) I immediately noticed that most of the staff had blocks on their desks celebrating various milestones. Each read "I WAS HERE…"
Some folks had a few blocks, some had many. I was intrigued, but didn't get it right away. When I asked one of my new colleagues, she proudly unstacked her cubes and told me the story of each one: that she was there when they moved into their first real office ("see?"); she was there when they first launched the offering that would eventually get us to IPO ("that was a great day!") and she was there when they sold 10,000 access hours in a month (our metric for paid usage). As the company reached important milestones, every employee got the block celebrating that collective achievement.
I quickly figured it out: people with the longest tenure at the company had the most blocks. Newbies like me could scan their desktops and instantly jump to the right conclusion: I might be smart and smug, but here was someone who'd been part of the company's earlier startup struggles. I was jealous!
And when iPass hit its next success milestone, I was thrilled to get my first block. To be a visible member of the tribe. To belong. To have my contribution applauded as part of the whole. And it had nothing to do with rank or title or stock options.  Stacks of blocks subtly reinforced how the company valued persistence and shared goals. A powerful – yet inexpensive – way to emphasize what mattered.  Here's my pyramid from 2.5 years at iPass while we grew revenue 10x.
I liked the symbolism so much that I carried it to my next several companies.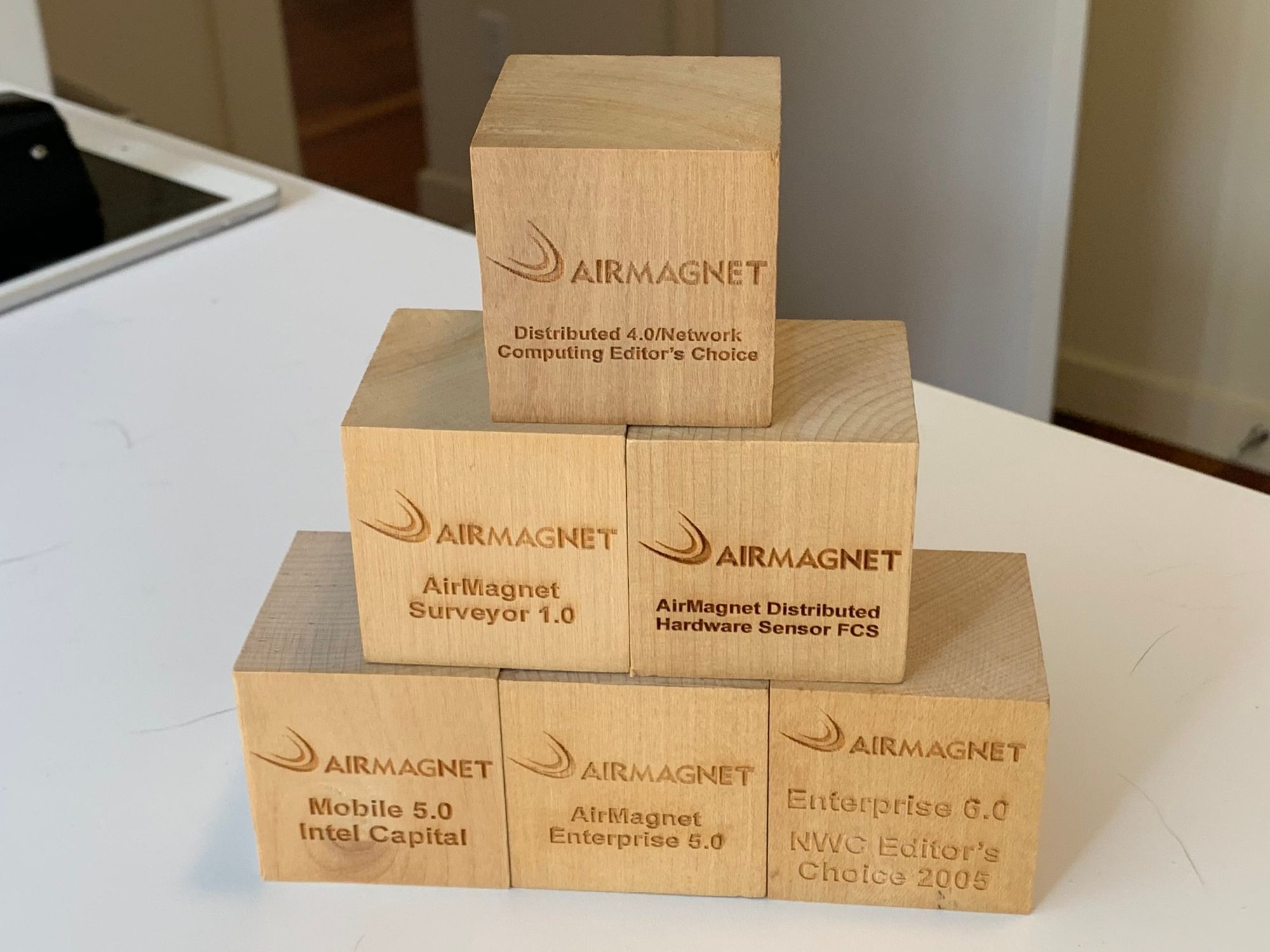 My stack of blocks from AirMagnet (an early 2000's player in Wi-Fi security) marked product launches, editorial wins and funding from an important investor. The events were different, but with the same message: "we've all pulled together to accomplish something important."  A reminder that 80 percent of success is just showing up."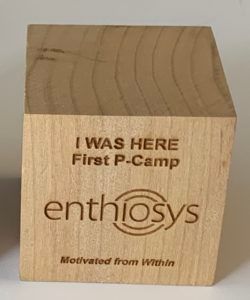 And here's one token that's close to my heart: a 2008 memento from the first Product Camp — which I misnamed P-Camp. My compatriots at Enthiosys (Luke Hohmann, Scott Gilbert, Jennifer Smith, Sergey Gorbatov) and I threw this one-time event, not knowing it would become a thing. Rashmi Menon was the client at Yahoo! who got us permission to use their cafeteria and training building for free.  Here's the list of 2008 P-Camp presenters and sponsors.
Sound Byte
Symbolism can be powerful. Small-but-visible rewards can shape company culture and behavior. What are we doing to reinforce teamwork, shared success, and long-term commitment?